I've been wanting to make a pecan pie for some time now, but I haven't had a great deal of spare time lately. Also, I am trying to watch my weight and pecan pie is not exactly a diet-friendly dessert. The fact that BB and CC don't like it that much also meant that basically I was going to be making a pecan pie - for me. Oh, the greed.
I finally got the maple syrup and was lazy and bought a ready-made all-butter pie crust from the supermarket. I had a copy of Jamie's Dinners to hand and was looking through it and came across this wonderful recipe for Maple Syrup and Pecan tart. I have traditionally made pecan pie by whisking eggs, maple syrup and pecan nuts together and then baking it in a pastry crust. But you will see, dear reader, that Jamie's recipe contains no eggs, but even better than that this is a lovely pie made lighter than the usual pecan pie with the addition of apple, orange rind, breadcrumbs and wait for it, ginger ! It certainly makes for a rather different pecan pie, but you know what - it made a nice, welcoming change.
Here's a picture of the dry ingredients before being added to the syrup and butter. You can see the breadcrumbs, pecan nuts, grated apple and orange zest. Yum!
I have been eating it all weekend, so tomorrow the rest of it will be taken to work to be shared amongst the boys. If you fancy a change from the heavier, traditional pecan pie I would definitely recommend this.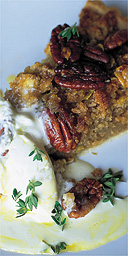 This is Jamie's picture not mine - mine is at the end and is definitely not as good as this one - Dammit!
Shortcrust pastry 55g/2oz butter
340g/12oz maple syrup
3 tablespoons golden syrup
170g/6oz breadcrumbs, half fine, half coarse
zest of 2 oranges
2 Cox's apples, grated
a thumb-size piece of fresh ginger, peeled and finely grated
2 handfuls of shelled pecan nuts
optional: crème fraiche or vanilla ice cream
optional: a handful of thyme flowers
First of all, make your pastry, then line a 28cm/11in loose-bottomed tart tin with it and place in the freezer for an hour. Preheat the over to 180C/350F/gas 4. Take the pastry case out of the freezer and bake in the oven for around 15 minutes, until lightly golden. Remove from the oven and allow to cool slightly. Heat the butter, maple syrup and golden syrup together in a pan, then mix in the breadcrumbs, orange zest, apples, ginger and half the pecan nuts. Spoon into the pastry case and sprinkle over the remaining pecans. Put back in the oven and bake for around 20 minutes. Lovely served with some crème fraiche or vanilla ice cream and sprinkled with thyme flowers.
NOTE: My pre-made, shop-bought pastry crust was quite small and I could tell by looking at it that I would not use all of the filling stated above, so I did actually use half the ingredients indicated above, so one apple, one orange, a small amount of ginger, half the breadcrumbs and syrup(s) and it completely filled the pastry case. So, if you get a shop-bought one you may need to do the same....
My picture - not as good as Jamie's is it ??